The newest additions to Ustream are our Shout Meter and Live Polls. From now on, every time you tune into a live show, you'll be able to let everyone know how you feel.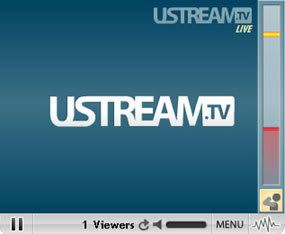 The Shout Meter:
Every time you click, you boost both your personal shout volume for the show (how interested you are), as well as the overall roar of the crowd. Both measures of shout volume are dynamic–as soon as you stop clicking, both your personal shout volume and the roar of the crowd start to fade. This lets Ustream measure the second-by-second excitement level of each show, and highlight the most exciting shows by featuring them on the homepage and program guide.
Check out the new Shout Meter on any live show–just click the soundwave button to pull up your Shout Meter, and click to shout.
Live Polls:
The new Ustream will also let our broadcasters find out how their audience feels with our new Live Polls. At any time during your broadcast, you can go to the Broadcaster Console and set up an Live Poll just by clicking Poll and filling out the form.
Whether you're trying to get an answer to one of life's toughest questions, or just figuring out which shirt to wear, Live Polls let your audience give you their opinions
Other New Broadcaster Toys:
Don't worry broadcasters, the viewers aren't having all the fun. The latest version of Ustream adds two new modules, just for you: Personal Links and the new Past Clips archive.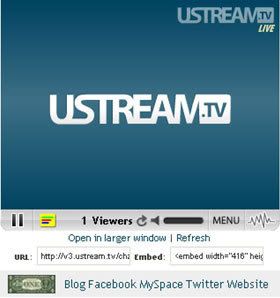 Personal Links:
Want to direct your viewers to your blog or Web site? How about your FaceBook, MySpace, or Facebook page? Now you can. Just log in, click on "My Profile", and enter the corresponding URLs. They'll show up right below your video stream for all your shows. And if you have a PayPal account, you can add a Tip Jar to your shows, in case your viewers are feeling generous (or in case you're willing to take on-air dares).
Past Clips:
Want viewers to be able to watch your old clips? Now, with the Past Clips module,
viewers can page through your old clips without ever leaving your show page. Better make sure you've checked what's in those archives!
We hope you enjoy the new interactivity and features. All of these improvements are brand spanking new, so we look forward to getting your feedback. Just email your suggestions to support@ustream.tv. The more you tell us, the more we can improve.
More conversations are developing on Techmeme as well:
http://www.techmeme.com/070725/p50#a070725p50